The artefactum gmbh emerged from the production department of a well-known German cosmetics company and has more than 40 years of experience in the development and manufacturing of cosmetics of any kind. The products are manufactured in Rudolstadt and are traded currently in over 60 countries worldwide.

The artefactum gmbh offers its customers complete manufacturing solutions: We care as a service company to all your needs. From purchasing of raw materials and packaging, formulation development, production, filling, packaging, documentation up to the quality management (qms). We can offer to our clients proofed customer-oriented solutions.

The artefactum gmbh has a high technology production and process equipment, which is used in a new production building with highest worldwide standarts. We guarantee highest quality of products in cooperation with the in-house microbiology laboratory. All products are produced and documented by the European Cosmetics Directive and GMP standard.

For artefactum gmbh are development and research inextricably linked to the economic success. Therefore, the company is engaged in research projects of the Federal Ministry of Research and is located in close partnerships with universities and institutes.
The three pillars of artefactum gmbh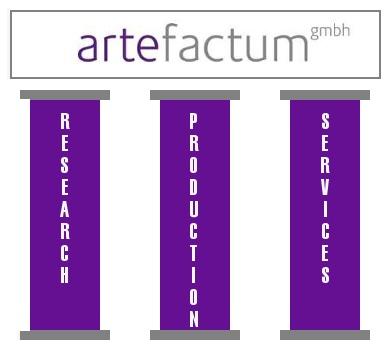 Countries where products manufactured by artefactum gmbh are traded